"More results than minoxidil." - Aaron G
NOTICEABLE RESULTS IN AS LITTLE AS ONE MONTH (RESULTS VARY)
Naturally triggers hair growth and increases follicle thickness. Reduces the rate of hair loss and promotes new growth. Increases hair fullness, density, and overall hair texture.
Designed for all skin/hair types and ages.
Share
View full details
Fight Hair Loss At Home
The AnteAGE MD Home Hair System simplifies hair regrowth treatments at home by combining all the tools needed to stimulate hair follicles and promote natural, healthy hair growth, without surgery or hormonal side effects.
The power in the system comes from WNT1 Growth Factors and Cytokines that specifically signal to the dormant stem cells inside the hair follicles to regenerate and return to normal growth patterns. We have combined these growth factors with polybotanicals proven to stimulate circulation and blood flow while keeping inflammation low. Together, this formula in our Hair Serum creates an optimal environment for healthy hair growth.
The application of Hair Serum comes with a handheld dermal needling device to enhance product penetration and a thickening brush to gently stimulate follicles.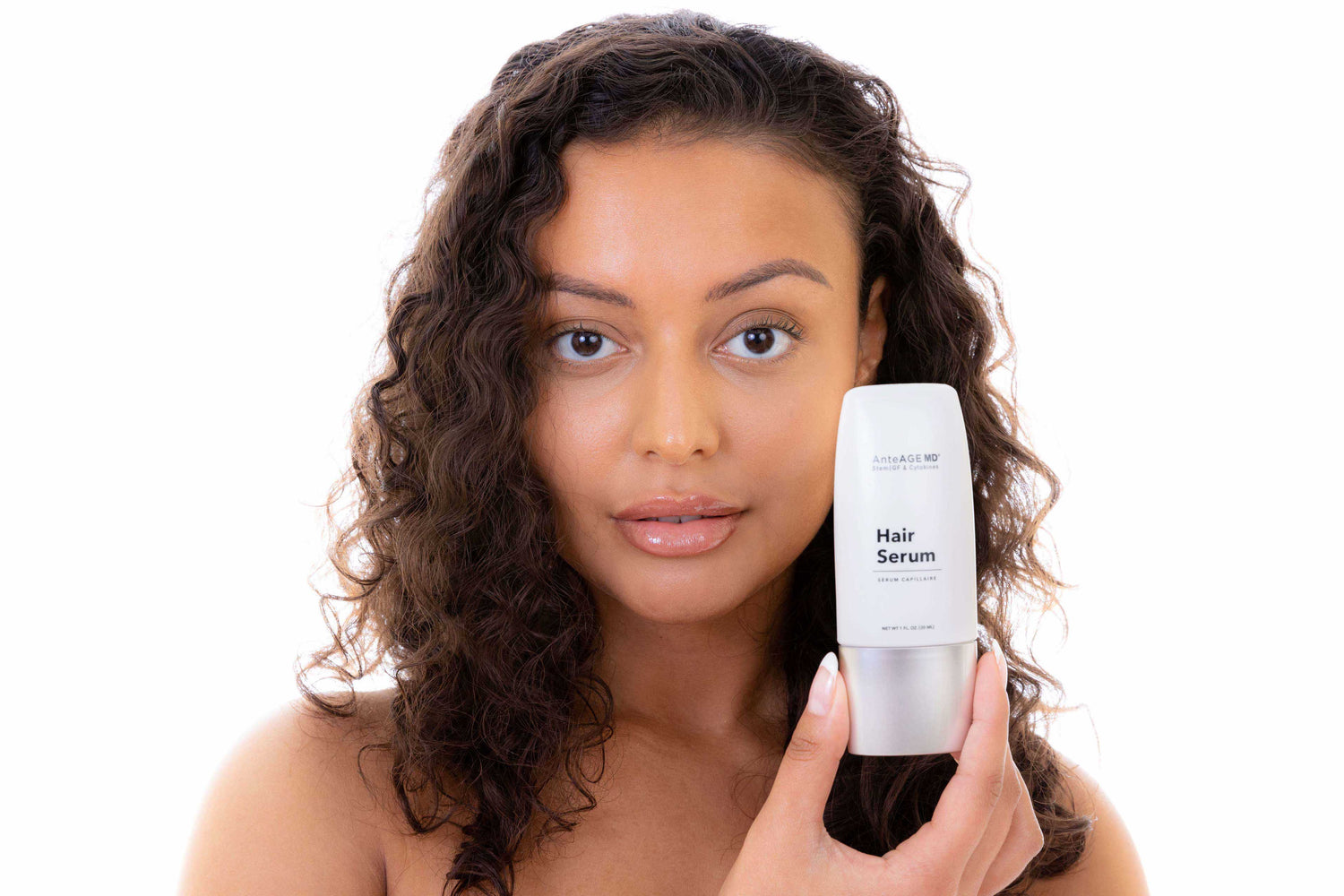 Hair Serum
Our Hair Serum contains specific growth factors that activate the cellular signaling pathway that triggers hair growth. For an extra punch, we've added polybotanicals proven to aid in follicle health and regeneration.
To use, apply several drops of Hair Serum to a clean scalp. Serum delivery can be enhanced with either our Microchanneling Stamp or Thickening Brush.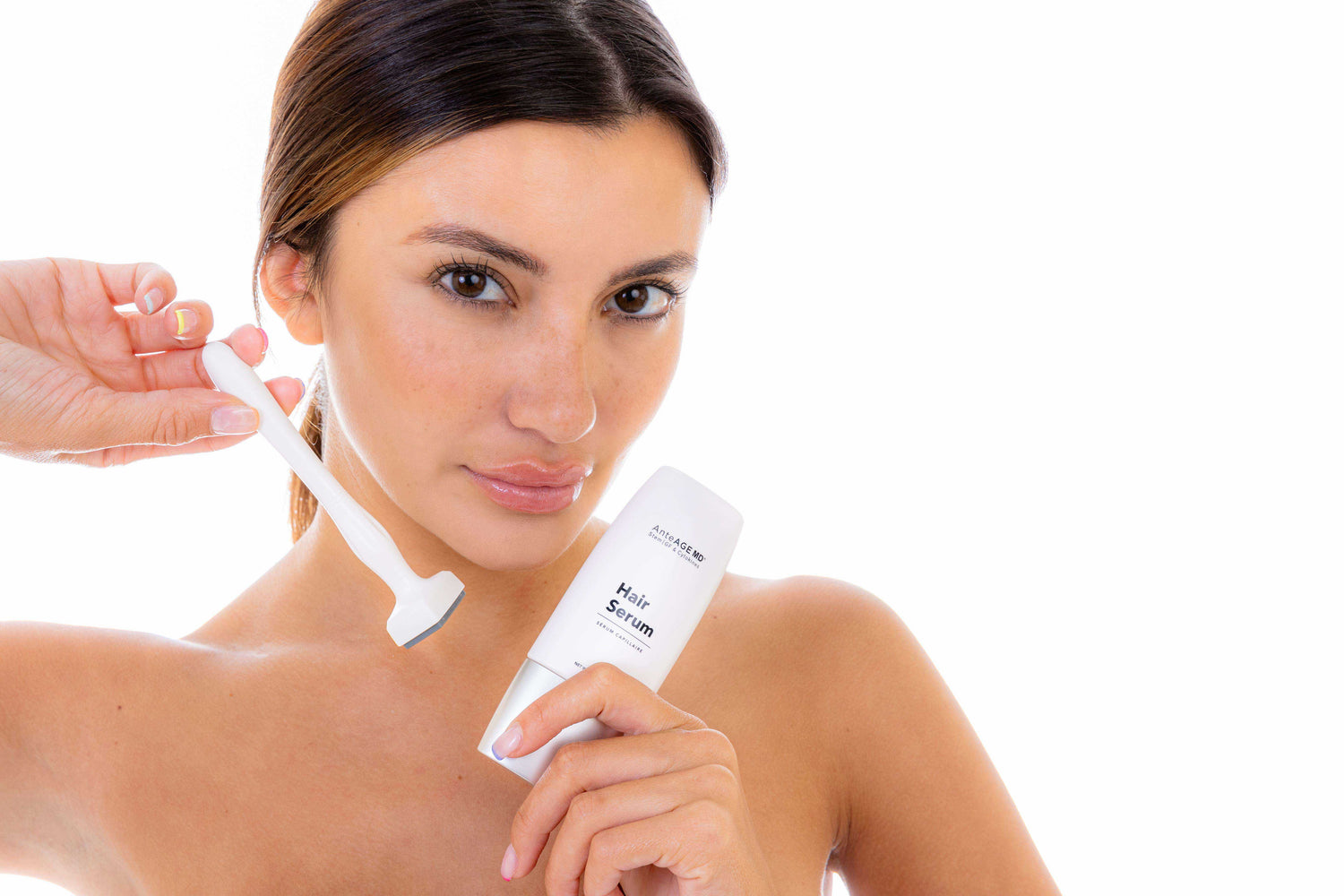 Microchanneling Stamp
The tiny needles on the bottom of this tool create microchannels in the scalp that will aid in the delivery of growth factors in Hair Serum.
Press the Microchanneling Stamp firmly over the entire treatment area where Serum has been applied. Stamp using a rocking motion.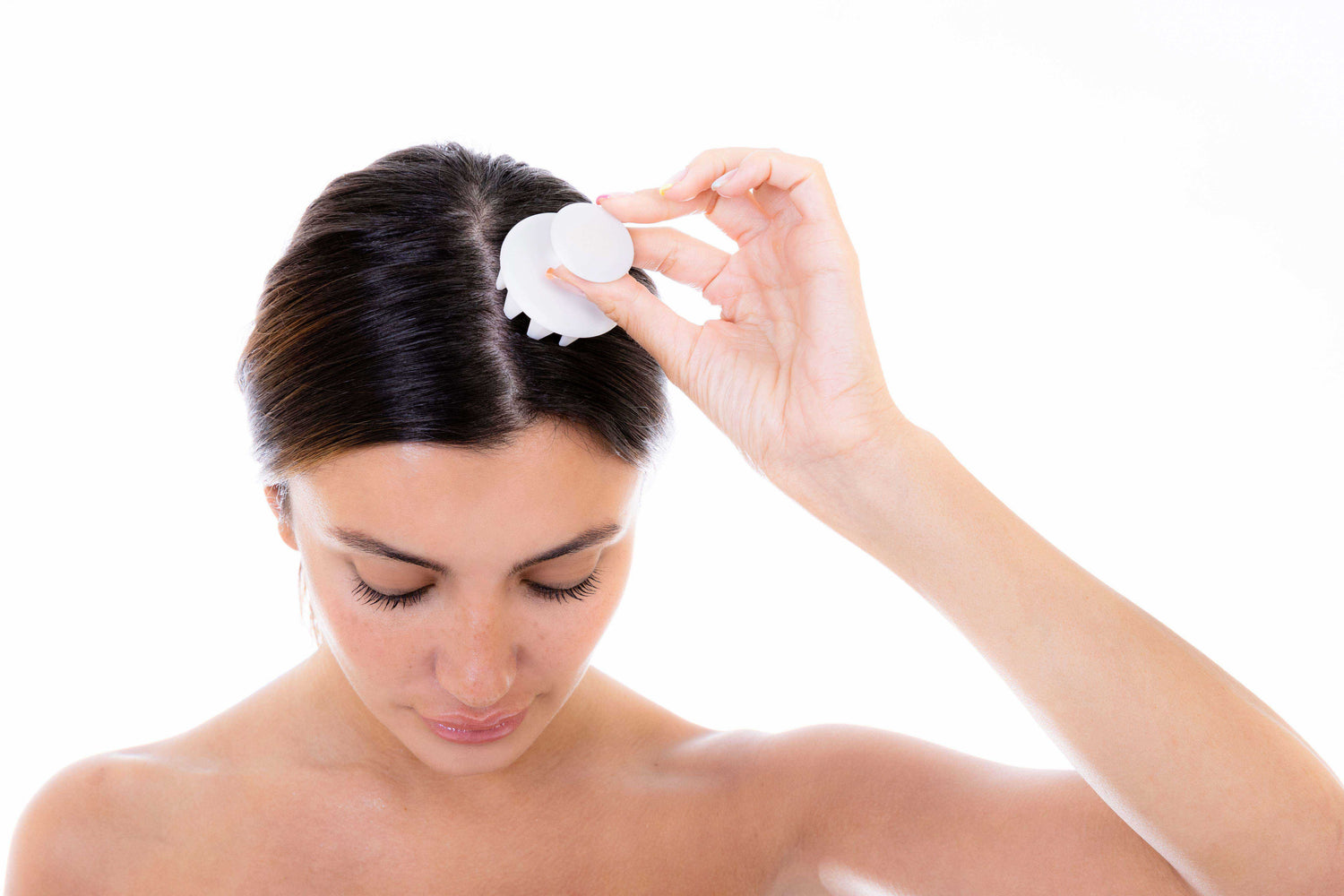 Thickening Brush
This custom designed massager has your scalp's health in mind. Use it for scalp stimulation as well as to spread and increase the absorbency of Hair Serum. 
After applying hair Serum, use this tool to massage your scalp in small circle motions. It is not necessary to press hard, the product will naturally absorb.
FAQs
What is your return policy?

We are so confident in the efficacy of our solutions that we offer a hassle-free, thirty day money back guarantee.

If you are not satisfied with your AnteAGE product for any reason, you are welcome to return your product within thirty days of purchase for a full refund– no questions asked.
How long will it take to get my order?

It depends on where you are. Domestic orders generally take 5-7 business days to arrive.
How long does it typically take to see results?

Some results take time to achieve, and others happen quite fast. Some users see results in as little as 2 weeks. Typically, most people see noticeable results within 30 days. Most importantly, you're preventing new visible signs of aging every day when you use the AnteAGE system.
Are the stem cells fetal or embryonic?

No, not at all.

Our stem cells are sourced only from the bone marrow of young, healthy, pre-screened adult donors. Stem cell cytokines also contain none of the original cell parts themselves, only the beneficial growth factors they produce.
What are growth factors?

Growth factors, natural proteins in the body, are used in skincare and haircare to boost cell growth and tissue repair. In hair products, they aim to strengthen follicles, promote hair growth, and enhance scalp health.
How does AnteAGE harvest stem cells for their products?

We source our stem cells from the bone marrow of young, healthy, pre-screened adult donors. The cells are cultured in a laboratory, within a controlled environment that fosters production of the biosignals that will engage in skin repair and rejuvenation. We then harvest and extract the powerful growth factors and cytokines inside, discarding the cell itself. Our products are 100% free of inflammatory cells, cell fragments, RNA, or DNA.
Is there a difference between bone marrow stem cells and plant stem cells?

Mesenchymal stem cells originating from bone marrow are the most powerful and versatile population in your body, able to transform into myriad cell types to fight injury and inflammation. As they leave the bone marrow and travel throughout the body, these stem cells act as command and control centers, directing the process of healing to minimize overall damage. We can't live without these cells, and yet we have fewer of them working for us with each passing day.

Cellese Regenerative Therapeutics cultures these cells in-vitro, providing them with a controlled environment to foster production of biosignals engaged in skin repair and rejuvenation. We harvest these Growth Factors & Cytokines they produce and use them as our products' primary active.
What are the ingredients?

Water (Aqua), Human Bone Marrow Stem Cell Conditioned Media, Polysorbate 20, Cistanche Tubulosa Extract, Carthamus Tinctorius (Safflower) Seedcake Extract, Laminaria Japonica Extract, Ecklonia Cava Extract, Eclipta Prostrata Extract, Eucalyptus Globulus Leaf Extract, Forsythia Suspensa Fruit Extract, Malva Verticillata Flower/Leaf/Stem Extract, Phyllanthus Niruri Extract, Polygonum Multiflorum Extract, Pueraria Thunbergiana Root Extract, Porphyra Columbina Extract, Oryza Sativa (Rice) Bran Extract, Rosmarinus Officinalis (Rosemary) Extract, Sanguisorba Officinalis Root Extract, Sargassum Muticum Extract, Thuja Orientalis Extract, Sophora Flavescens Root Extract, Acanthopanax Koreanum Extract, Angelica Polymorpha Sinensis Root Extract, Adiantum Capillus-Veneris Leaf Extract, Chlamydomonas Reinhardtii Extract, Panax Ginseng Root Extract, Adenosine, Tocopheryl Acetate, Hyaluronic Acid, Caffeine, Baicalin, Quercetin, Carnitine, Benzyl Alcohol, Dehydroacetic Acid, aFGF (sh-Polypeptide-11), bFGF (sh-Polypeptide-1), CSF1 (sh-Polypeptide-73), EPO (sh-Polypeptide-72), IGF-1 (sh-Oligopeptide-2), IGF-2 (sh-Polypeptide-31), KGF (sh-Polypeptide-3), KGF-2 (sh-Polypeptide-10), Noggin (sh-Polypeptide-13), PDGF (sh-Polypeptide-8), SCF (sh-Polypeptide-4), VEGFA (sh-Polypeptide-9), Cucurbitacin B