The AnteAGE® two-step System harnesses the power of stem cell growth factors and cytokines to prevent and actually reduce the appearance of skin aging. Protect against environmental toxins, restore your skin, and love your skin again!

AnteAGE® MD System contains twice the Stem Cytokines found in the AnteAGE Pro System, along with 21 additional ingredients.
Share
How To Use

AM/PM.

On clean skin, massage 2-3 pumps of AnteAGE® Serum into face and neck until absorbed.

Proceed with 2-3 pumps of AnteAGE® Accelerator.

Follow with your favorite SPF each morning.
Ingredients

Serum: Water (Aqua), Human Bone Marrow Stem Cell Conditioned Media, Hydrolyzed Myrtus Communis Leaf Extract, Glycerin, Butylene Glycol, Carbomer, Polysorbate 20, Palmitoyl Tripeptide-1, Palmitoyl Tetrapeptide-7, Niacinamide, Cetyl Ethylhexanoate, Polyacrylate-13, Polyisobutene, Dimethyl Isosorbide, Benzyl Alcohol, Salicylic Acid, Sorbic Acid, Carnosine, Ilex Paraguariensis Leaf Extract, Maltodextrin, Disodium EDTA

Accelerator: Water (Aqua), Butylene Glycol, Hydroxypropyl Starch Phosphate, Glycerin, C12-15 Alkyl Benzoate, Caprylic/Capric Triglyceride, Cetearyl Alcohol, Human Bone Marrow Stem Cell Conditioned Media, Tetrahexyldecyl Ascorbate, Bakuchiol, Ethyl Linoleate, Tocopheryl Acetate, Iris Florentina Root Extract, Pentylene Glycol, Tamarindus Indica Seed Gum, Sodium Hyaluronate, Candelilla/Jojoba/Rice Bran Polyglyceryl-3 Esters, Glyceryl Stearate, Sodium Stearoyl Lactylate, Tremella Fuciformis Sporocarp Extract, Betaine, Potassium Sorbate, Glycosphingolipids, Tasmannia Lanceolata Fruit Extract, Syzygium Luehmannii Fruit Extract, Kunzea Pomifera Fruit Extract, Magnesium Aluminum Silicate, Simmondsia Chinensis (Jojoba) Seed Oil, Thioctic Acid, Ubiquinone, Xanthan Gum, Phenoxyethanol, Caprylyl Glycol, Ethylhexylglycerin, Hexylene Glycol, hBD3 (sh-Oligopeptide-33), Limnanthes Alba (Meadowfoam) Seed Oil
View full details
Complete Skincare System
AnteAGE System is a powerful duo to take on all of your skin concerns in just two simple steps.
The AnteAGE Serum restores and protects with a fast absorbing formula of concentrated growth factors, antioxidants and peptides.
AnteAGE Accelerator is packed with powerful actives including vitamins C and E, bakuchiol (a retinol alternative) and growth factors to activate repair at the cellular level.
Use both products daily to improve the health and appearance of skin at any age.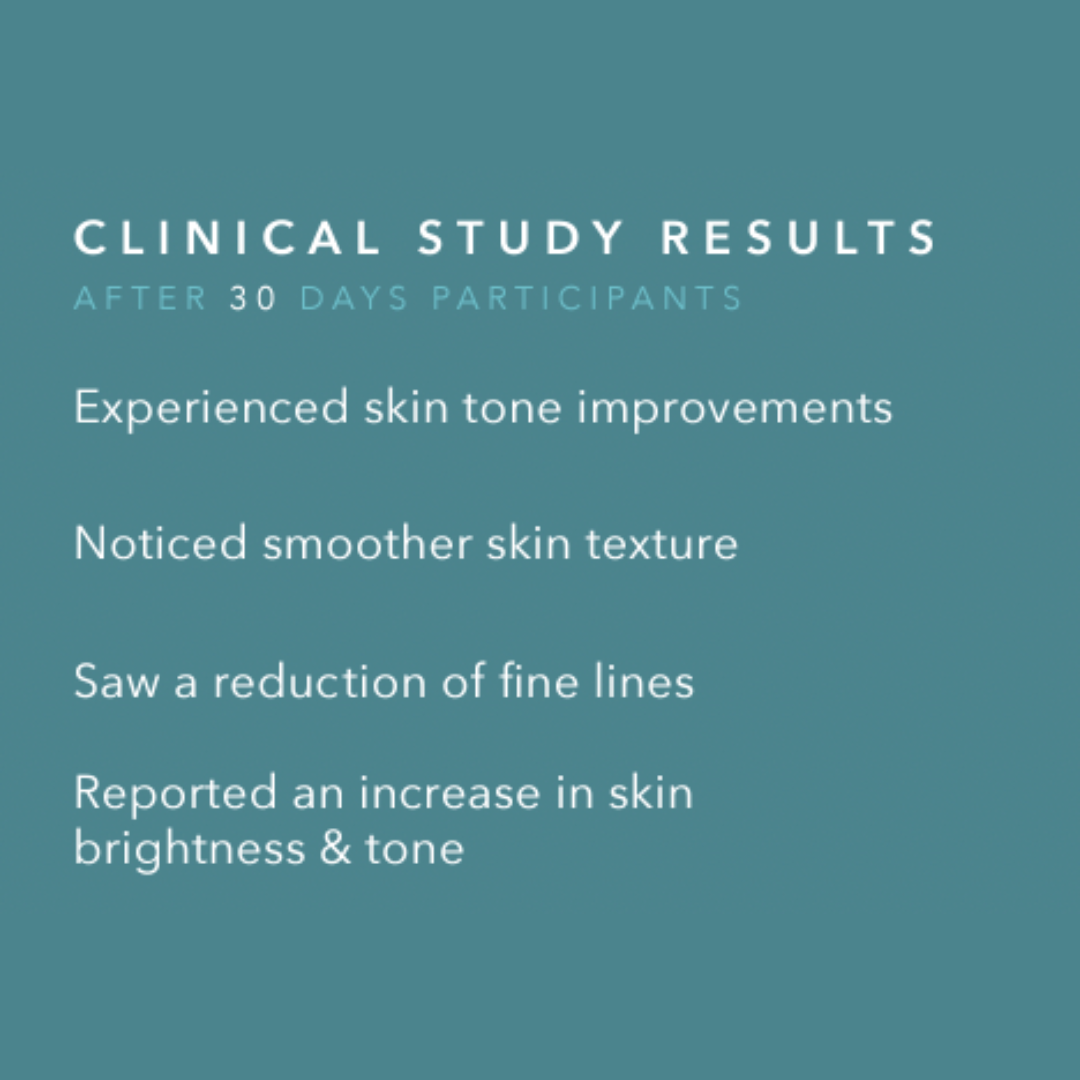 STEM CELL SKINCARE
AnteAGE MD® uses the latest breakthroughs in stem cell science to effectively recharge your skin's natural healing response.
Stem cells give off a portfolio of proteins, including growth factors and cytokines, grown in a laboratory culture and specially formulated to prevent signs of aging at the cellular level.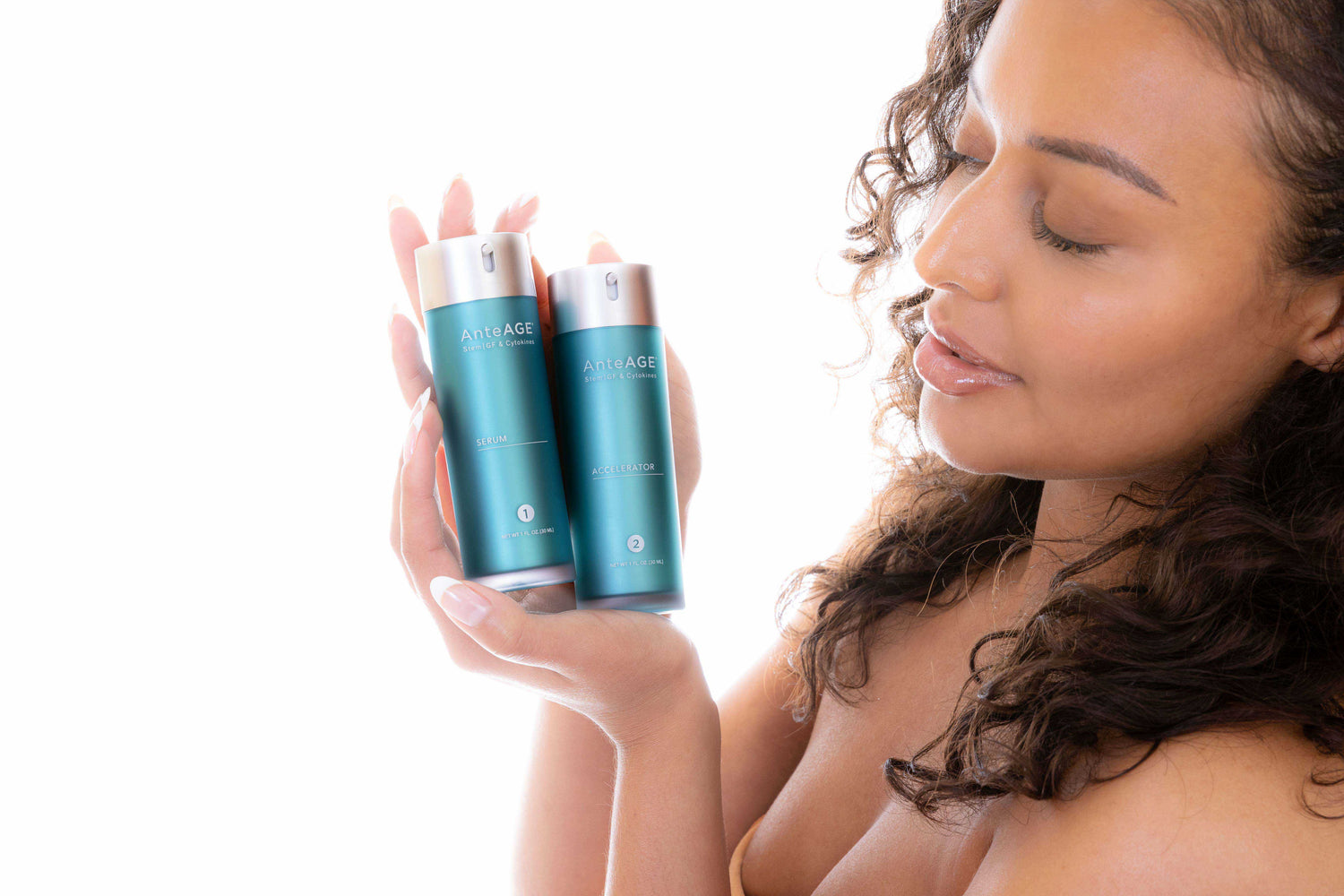 REVERSE AGING
Specialized stem cells travel from our bone marrow to oversee the process of healing. As we age, our stem cells are depleted. The result in our skin is inflammation, redness, spots, wrinkles, and other signs of age.
The AnteAGE® two step system rejuvenates skin by replacing the natural stem cell messaging proteins (growth factors) that are lost with age. With daily use, common signs of aging such as sagging, discoloration, lines, wrinkles, and pore size are drastically improved.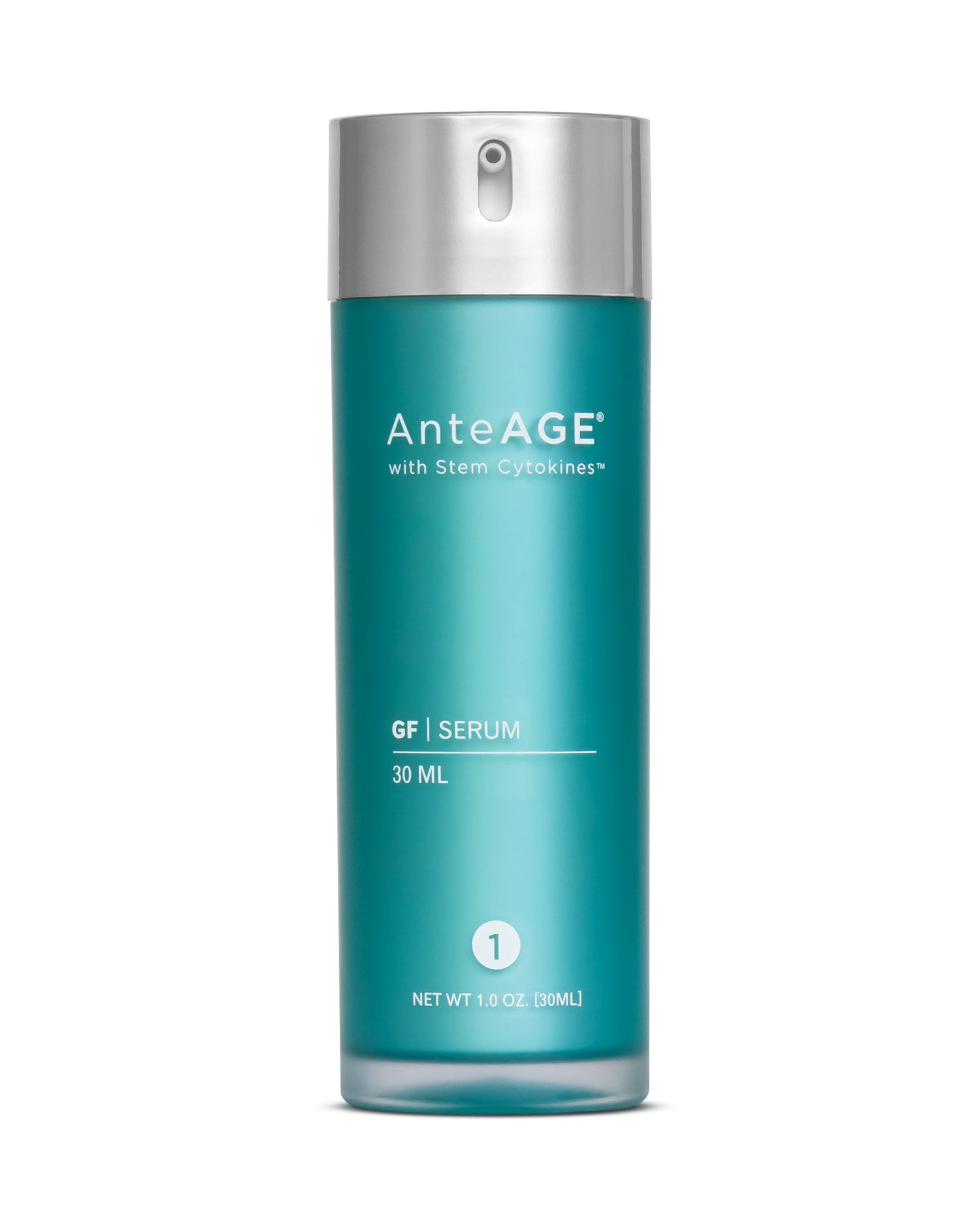 ANTEAGE® SERUM
Restore your skin with AnteAGE® regenerating Serum. This elegant formula quickly absorbs into your skin, and contains physiologically balanced Stem Cytokines™, potent peptides and protective Antioxidants.
Utilizing nanotechnology, this symphony of ingredients act in concert to deliver powerful results at the cellular level.
Initiates a pro-healing and anti-inflammatory response 
Reduces the appearance of fine lines and wrinkles 
Reduction in skin redness and sensitivity 
Protects from environmental assault 
pH: 6.0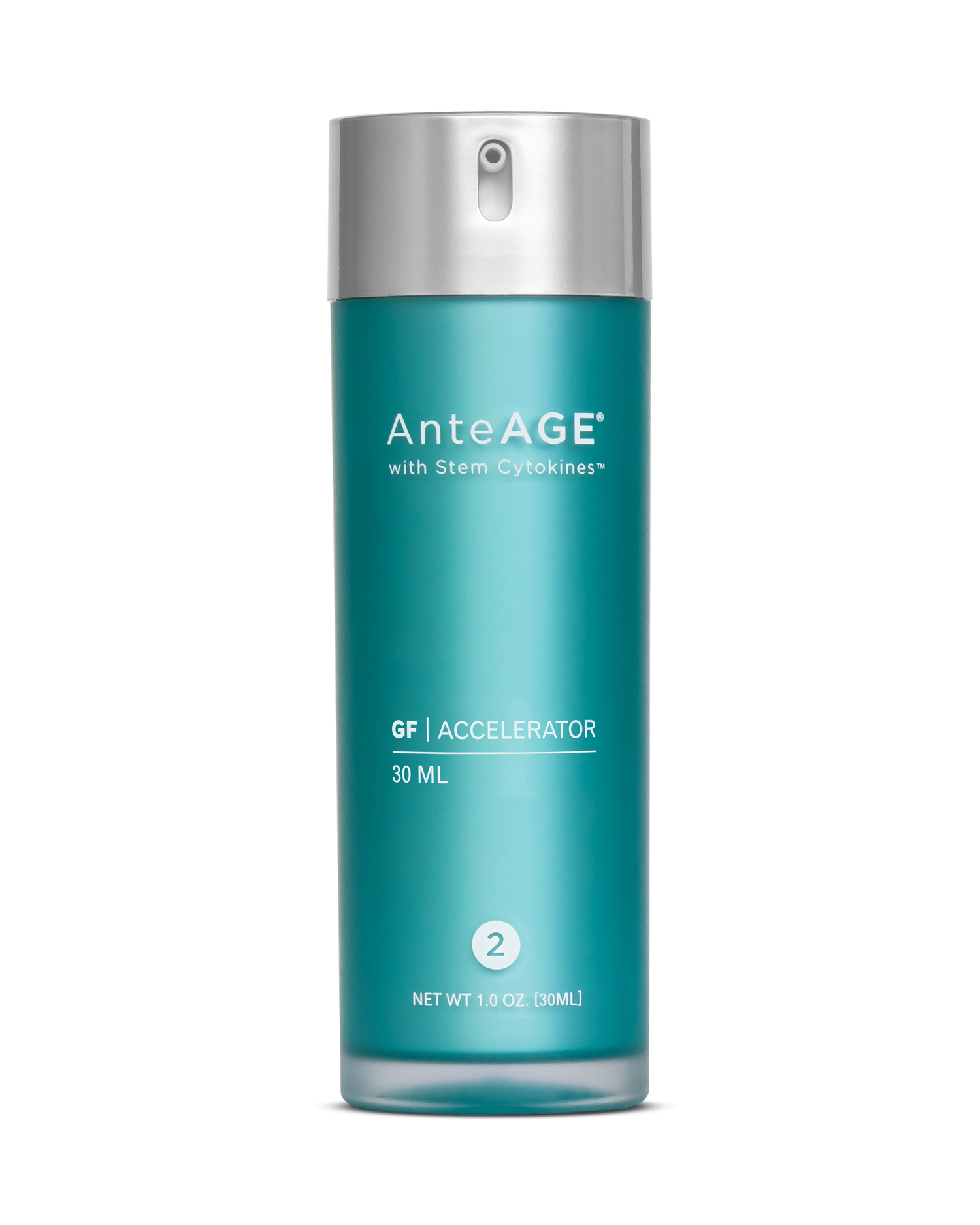 ANTEAGE® ACCELERATOR
The AnteAGE Accelerator is a performance driven treatment rich in powerful moisturizers and revitalizing active ingredients.
Stem Cytokines™, vitamins, and targeted antioxidants work to deeply hydrate and nourish the skin while a defensin peptide and a retinoid-like compound enhance the regenerative potential of the the AnteAGE System.
Reduces the appearance of fine lines and wrinkles. 
Supports a healthy skin defense system, barrier integrity and microbiome. 
Reduces the appearance of large pores and balances moisture levels. 
Gently increases skin renewal at the cellular level. 
Defends skin against environmental free radical damage. 
Maximizes the rejuvenating effect of AnteAGE Serum.
pH: 6.0
KEY INGREDIENTS & FUNCTIONS
Hyaluronic Acid

Alleviates dry skin and reduces the appearance of fine lines and wrinkles while speeding up wound healing.

Skin Mimetic Lipids

Hydrating blend of ceramides, fatty acids and botanical oils that nourish and condition the skin's protective lipid barrier.

Vitamin E

Lipid soluble form of Vitamin E. A powerful antioxidant that prevents lipid peroxidation and protects the skin from harmful UV rays.

Plant-Based Antioxidants

A power house of botanical molecules that defend and protect the skin from environmental assault.

Vitamin C

A lipid soluble and highly stable form of Vitamin C that supports health collagen production, acts as a powerful free radical scavenger and reduces unwanted pigmentation.

Super Fruit Berry Blend

(Munthari, Riberry, Tasmanian Pepper Berry Extracts) Blend of three super fruit berries with powerful antioxidant and anti-inflammatory properties that increase skin hydration and radiance.

Human beta-Defensin 3

A unique antimicrobial peptide that shows a broad range of activity against invading pathogens, helping to support healthy skin ecology and defense systems while reducing inflammation and rapidly producing new tissue and cells for the skin.

Bone Marrow Stem Cell Growth Factors

Physiologically balanced bio-signals released upon culture of bone marrow stem cells. Acting as the "command and control" over the healing and anti-inflammatory processes. Highly superior to all other stem cell types to culture for rejuvenation and regeneration.

Anti-Aging Peptides

Palmitoyl Oligopeptide: Stimulates collagen and HA in the deep layers of the skin. Provides some UV ray protection.and has been shown to duplicate the effects of retinoids without the irritation

Palmitoyl Tetrapeptide-7: Acts as a cellular messenger to stimulate collagen and HA to increase skin elasticity and tone. Synthesizes ECM and improves visible appearance of wrinkles.
FAQs
What is your return policy?

We are so confident in the efficacy of our solutions that we offer a hassle-free, thirty day money back guarantee.

If you are not satisfied with your AnteAGE product for any reason, you are welcome to return your product within thirty days of purchase for a full refund– no questions asked.
How long will it take to get my order?

It depends on where you are. Domestic orders generally take 5-7 business days to arrive.
How long does it typically take to see results?

Some results take time to achieve, and others happen quite fast. Some users see results in as little as 2 weeks. Typically, most people see noticeable results within 30 days. Most importantly, you're preventing new visible signs of aging every day when you use the AnteAGE system.
Are the stem cells fetal or embryonic?

No, not at all.

Our stem cells are sourced only from the bone marrow of young, healthy, pre-screened adult donors. Stem cell cytokines also contain none of the original cell parts themselves, only the beneficial growth factors they produce.
What are growth factors?

Growth factors, natural proteins in the body, are used in skincare and haircare to boost cell growth and tissue repair. In hair products, they aim to strengthen follicles, promote hair growth, and enhance scalp health.
How does AnteAGE harvest stem cells for their products?

We source our stem cells from the bone marrow of young, healthy, pre-screened adult donors. The cells are cultured in a laboratory, within a controlled environment that fosters production of the biosignals that will engage in skin repair and rejuvenation. We then harvest and extract the powerful growth factors and cytokines inside, discarding the cell itself. Our products are 100% free of inflammatory cells, cell fragments, RNA, or DNA.
Is there a difference between bone marrow stem cells and plant stem cells?

Mesenchymal stem cells originating from bone marrow are the most powerful and versatile population in your body, able to transform into myriad cell types to fight injury and inflammation. As they leave the bone marrow and travel throughout the body, these stem cells act as command and control centers, directing the process of healing to minimize overall damage. We can't live without these cells, and yet we have fewer of them working for us with each passing day.

Cellese Regenerative Therapeutics cultures these cells in-vitro, providing them with a controlled environment to foster production of biosignals engaged in skin repair and rejuvenation. We harvest these Growth Factors & Cytokines they produce and use them as our products' primary active.
What are the ingredients?

Serum:

Water (Aqua), Human Bone Marrow Stem Cell Conditioned Media, Cetyl Ethylhexanoate, Niacinamide, Dimethyl Isosorbide, Polyacrylate-13, Glycerin, Hydrolyzed Myrtus Communis Leaf Extract, Butylene Glycol, Carbomer, Polysorbate 20, Palmitoyl Tripeptide-1, Palmitoyl, Tetrapeptide-7, Polyisobutene, Benzyl Alcohol, Salicylic Acid, Sorbic Acid, Sorbitan Isostearate, Carnosine, Ilex Paraguariensis Leaf Extract, Maltodextrin, Disodium EDTA, TGF-beta 3 (sh-Polypeptide-5), IGF-1 (sh-Oligopeptide-2)

Accelerator:

Water (Aqua), Butylene Glycol, Hydroxypropyl Starch Phosphate, Glycerin, Human Bone Marrow Stem Cell Conditioned Media, C12-15 Alkyl Benzoate, Caprylic/Capric Triglyceride, Cetearyl Alcohol, Tetrahexyldecyl Ascorbate, Bakuchiol, Tocopheryl Acetate, Ethyl Linoleate, Iris Florentina Root Extract, Pentylene Glycol, Tamarindus Indica Seed Gum, Sodium Hyaluronate, Citric Acid, Panthenol, Polyglyceryl-3 Diisostearate, Glyceryl Stearate, Sodium Stearoyl Lactylate, Tremella Fuciformis Sporocarp Extract, Betaine, Potassium Sorbate, Glycosphingolipids, Tasmannia Lanceolata Fruit Extract, Syzygium Luehmannii Fruit Extract, Kunzea Pomifera Fruit Extract, Magnesium Aluminum Silicate, Simmondsia Chinensis (Jojoba) Seed Oil, Thioctic Acid, Ubiquinone, Xanthan Gum, Phenoxyethanol, Caprylyl Glycol, Ethylhexylglycerin, Hexylene Glycol, hBD3 (sh-Oligopeptide-33), Limnanthes Alba (Meadowfoam) Seed Oil